Inspired by Derek Low's account of What It's like to Fly the $23,000 Singapore Airlines Suites Class, I humbly offer my First Class travel experience on the Sunset Limited powered by Amtrak. 
In 1894, Southern Pacific Railroad Company introduced service from New Orleans to San Francisco by way of Los Angeles on the Sunset Express. It was the most luxurious class of travel at the time and was outfitted exclusively with Pullman sleeper cars, no coaches.

In 1971, Amtrak took over servicing this route and renamed it the Sunset Limited. The train now begins in New Orleans and ends in Los Angeles with two classes of service.
Reserved Coach: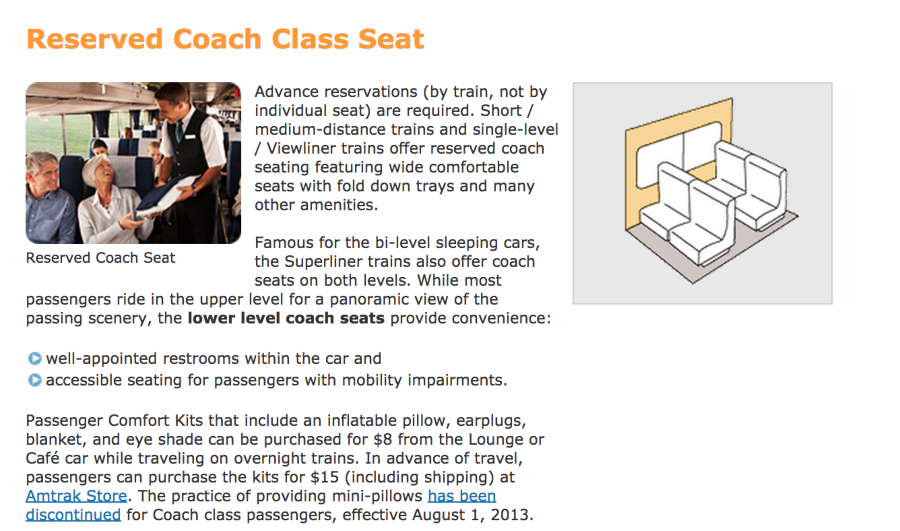 "First Class" with three different room configurations. Below is the "Roomette" which we booked: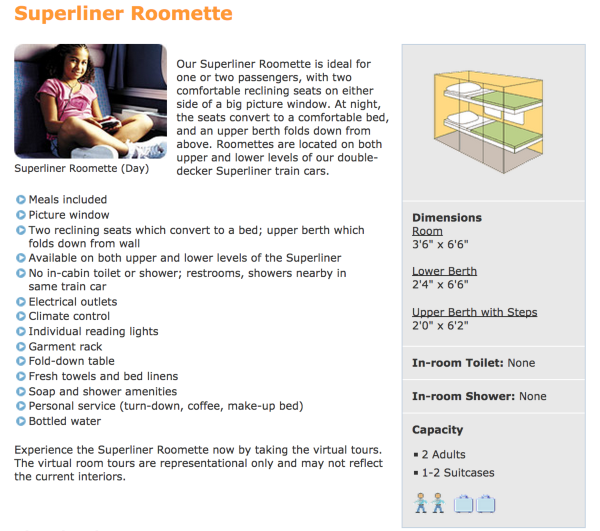 We started our ride on Saturday, December 27th @ 9am in New Orleans. We booked a ticket from New Orleans to Tucson, Arizona set to arrive @ 7:45 pm on Sunday, December 28th. Here are some photos, videos and tidbits of information from our trip.
NOLA Amtrak Station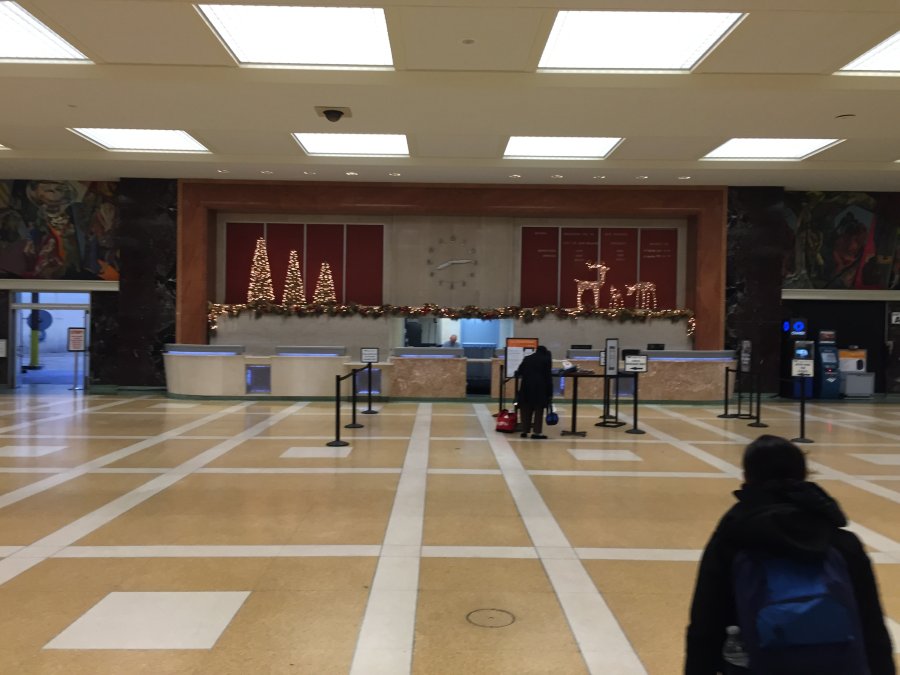 Holiday Decorations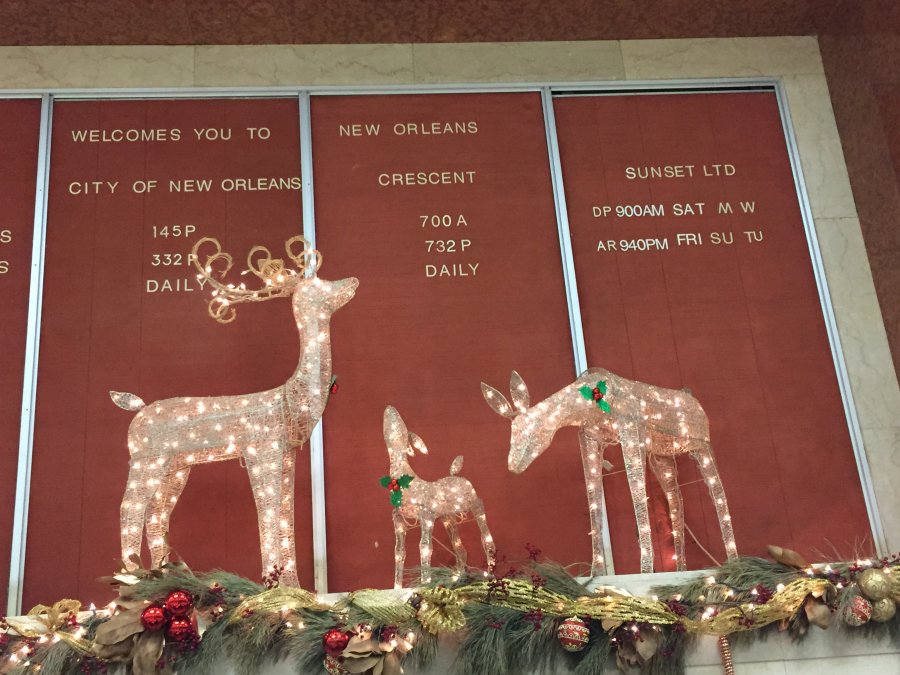 Upon our arrival at the station we quickly made our way toward the First Class waiting area and prepared for our morning Tea & Crumpets.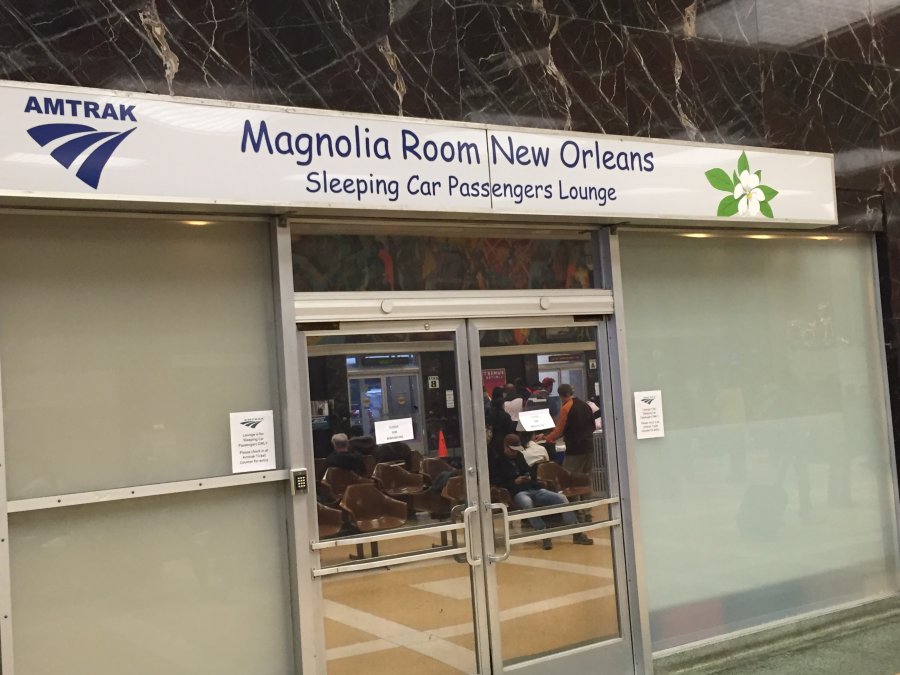 Sadly, it was closed for remodeling. It did not appear as if any "remodeling" was underway, but I will give them the benefit of the doubt.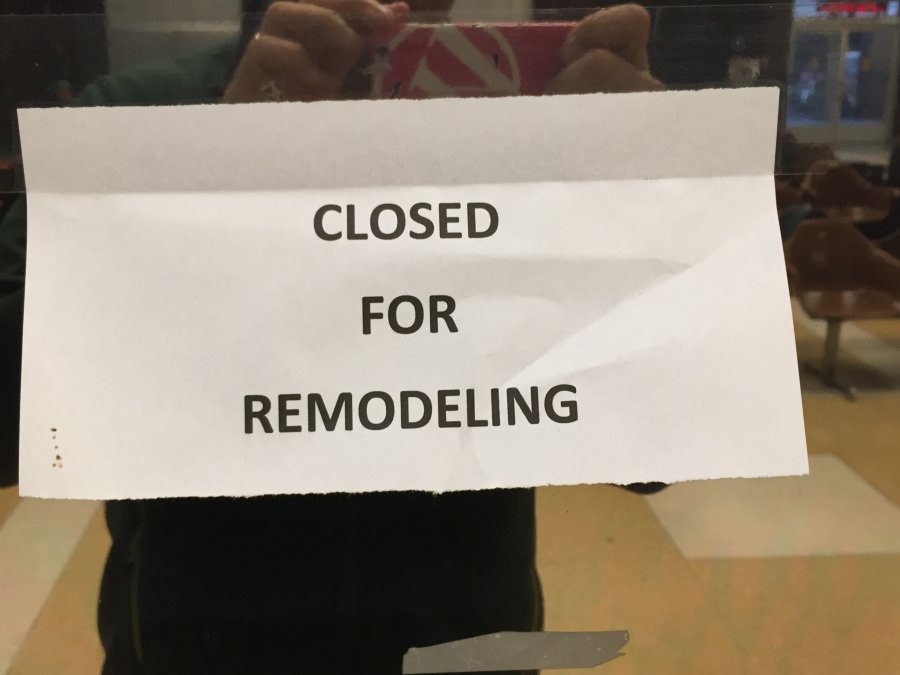 I was, however, able to make a collect call on one of the last working pay phones in America.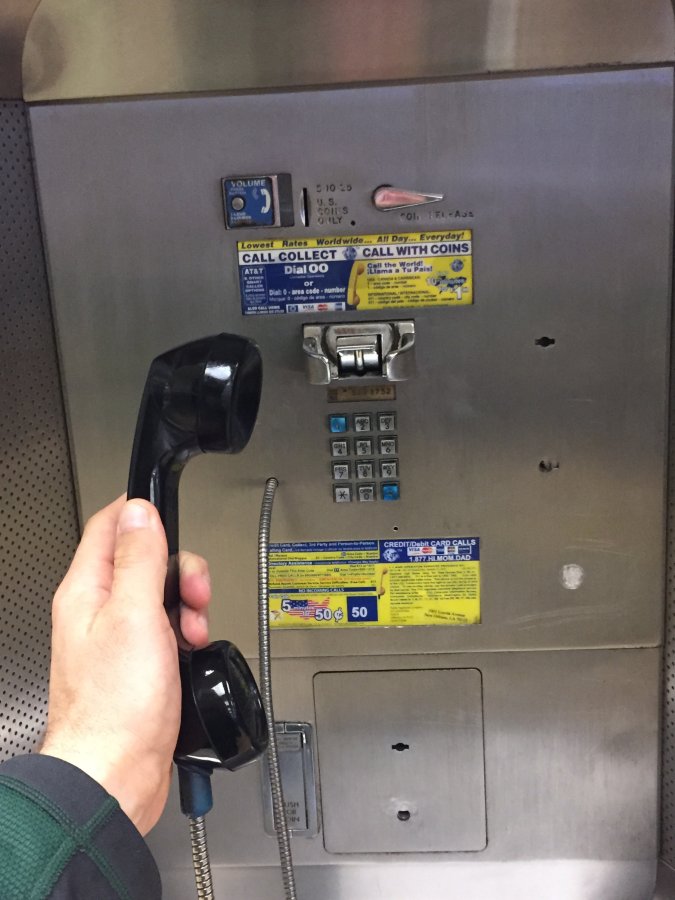 We Embarked from Track # 3 on time @ 9am.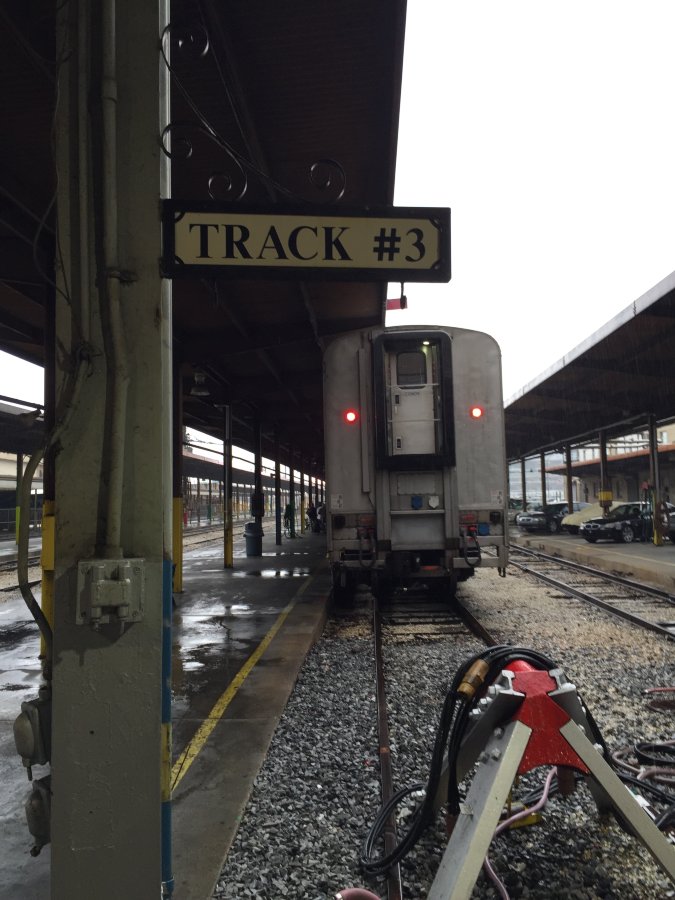 Our Cabin Steward, Brian, greeted us & showed us to our Roomette.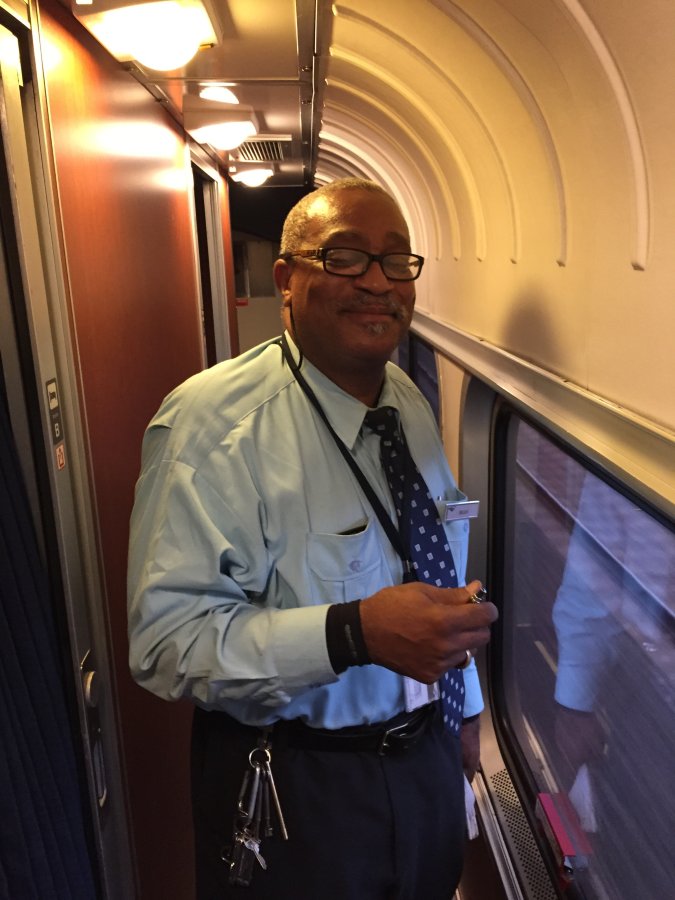 My seat for the next 36 hours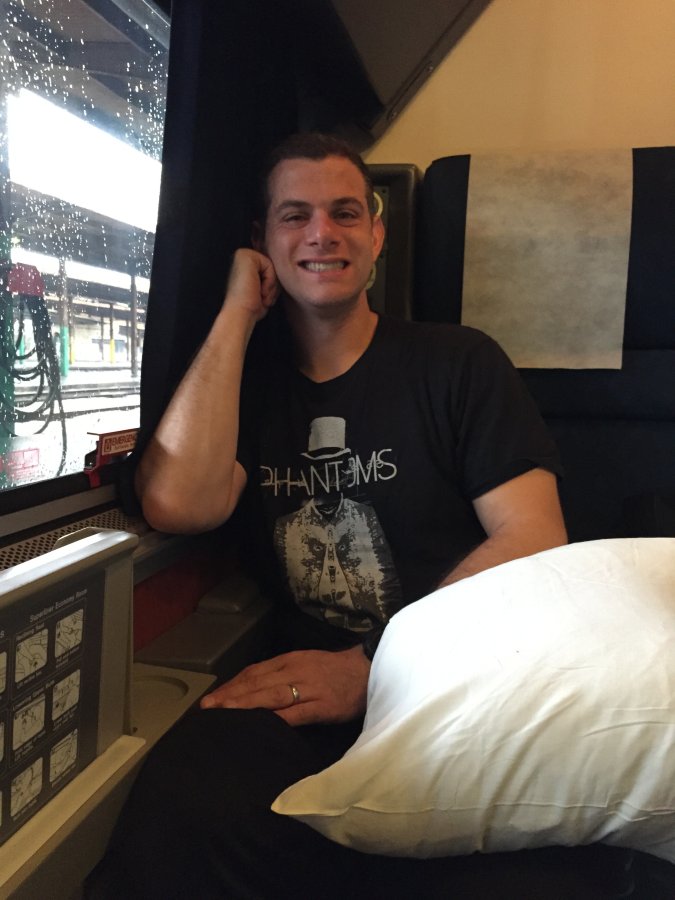 Shared seat for the next 36 hours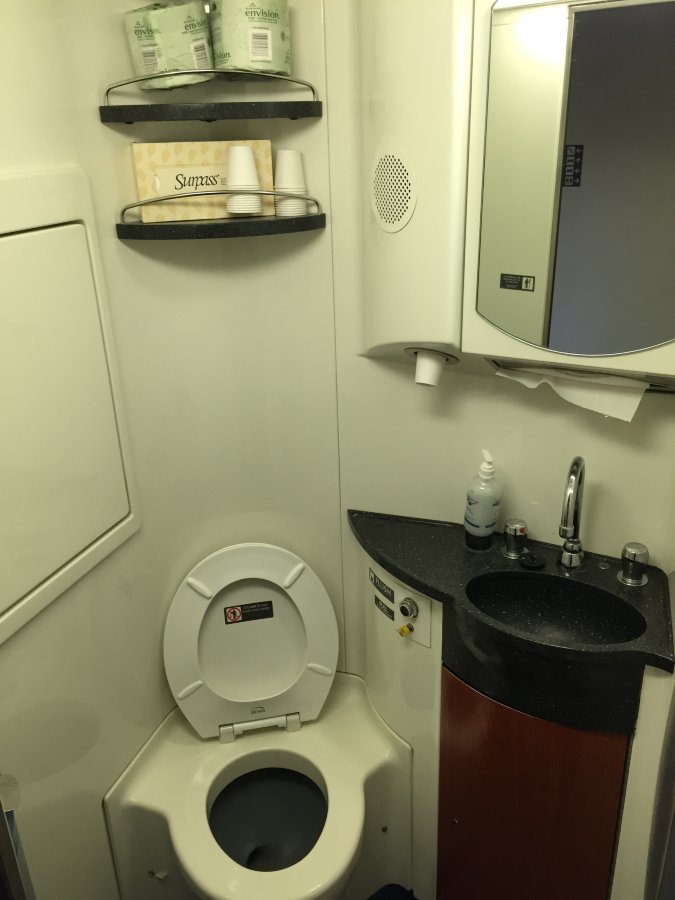 Shower Anyone?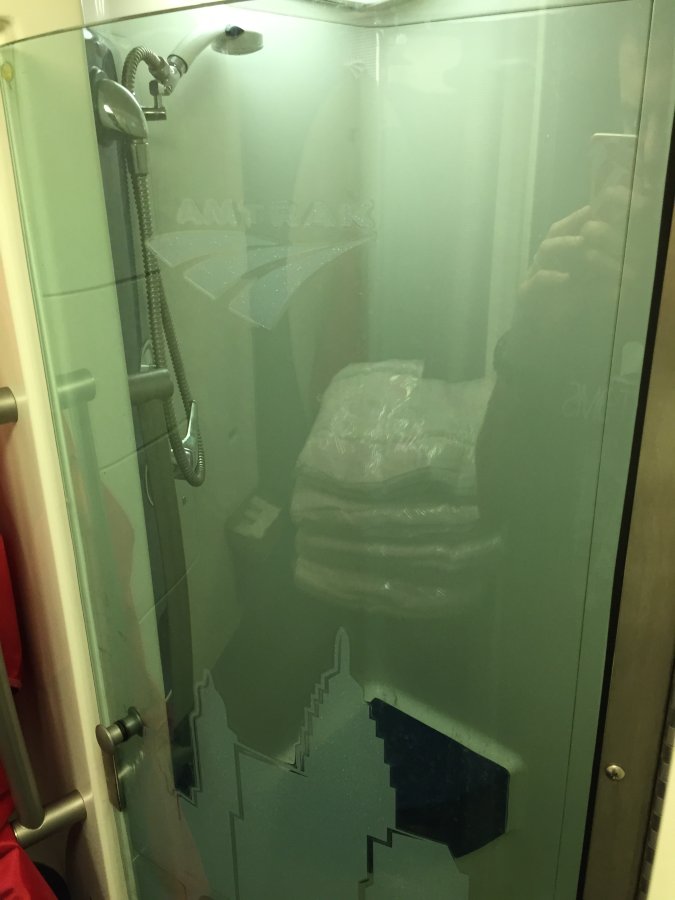 There is only one electrical plug per cabin & it has a "thermostat" knob positioned right above it. My 85w Mac charger didn't fit. Thankfully Rachel had the smaller 45w charger that sort of fit.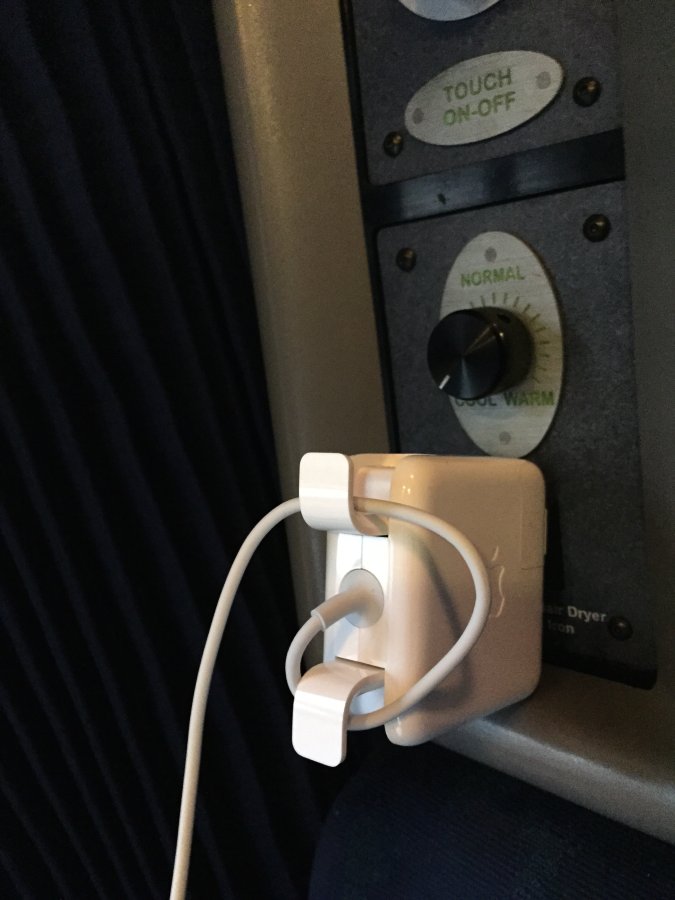 Our first lunch in the dining car was fantastic. Don't mind the prices, as all your meals are included in the price of your First Class ticket on Amtrak (alcohol not included). I had for the Black Bean Veggie Burger & Rachel had the Cesar Salad per the dining car steward's recommendation.
Alan & Emily, the dining car stewards, in full holiday cheer!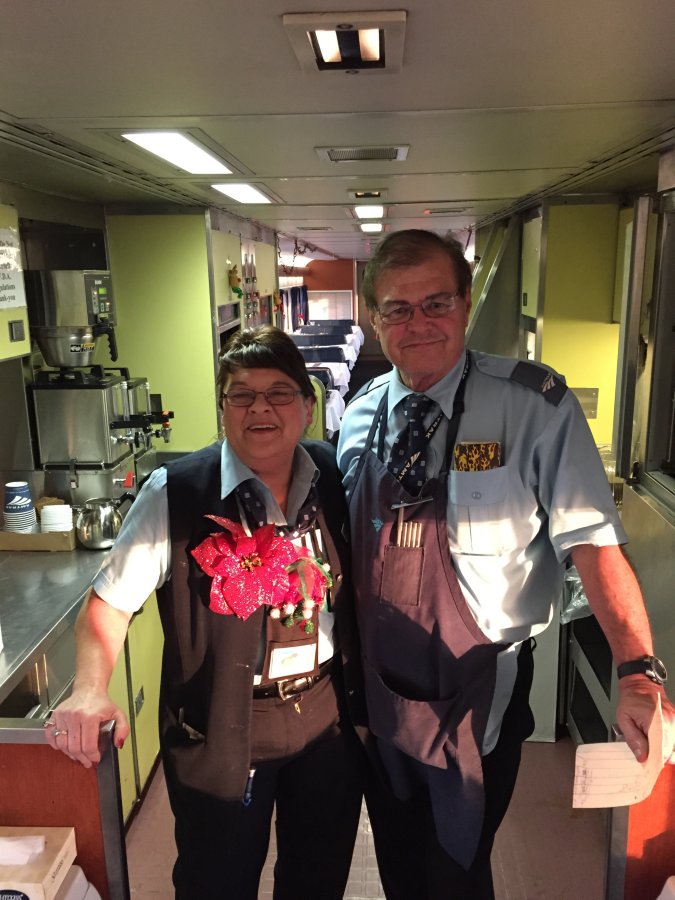 The train is a social place & people have plenty of time to sit, chat & relax. Seating at meals is communal so you are paired with new folks at every meal. For our first dinner we were seated with a nice couple from Fullerton, CA. They were both music recording artists whom had gone to New Orleans for Christmas & took the train both ways!!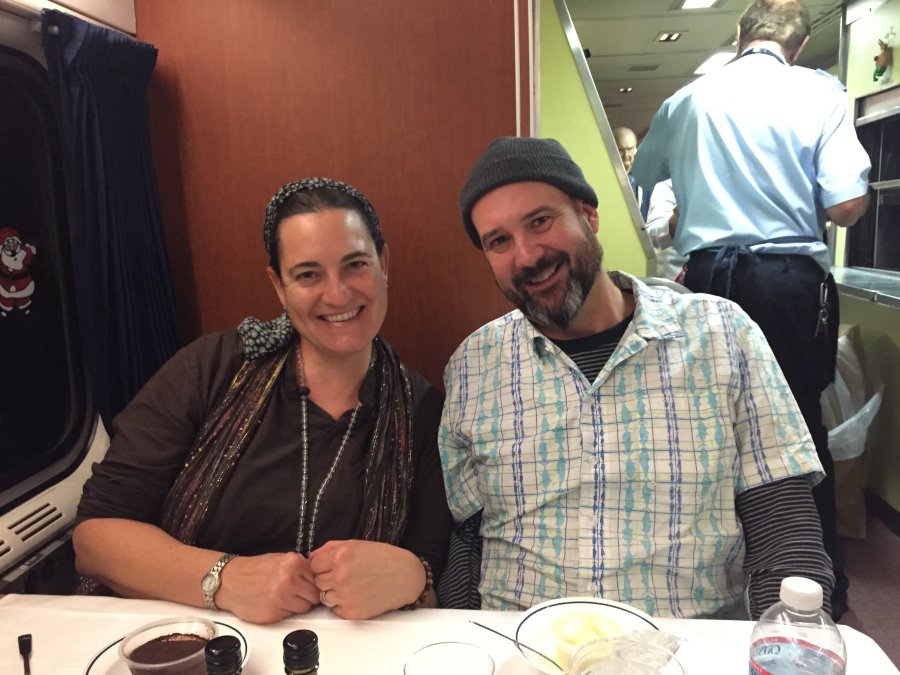 The Observation car is where the action is. The seats are first come first serve and the only rules are NO sleeping, NO outside alcohol & you MUST wear shoes. This is where the really interesting conversations happen. We met several great folks including a couple from South Carolina on their way to the Rose Bowl and an exciting duo that taught us a new card game and offered to save our souls. We declined.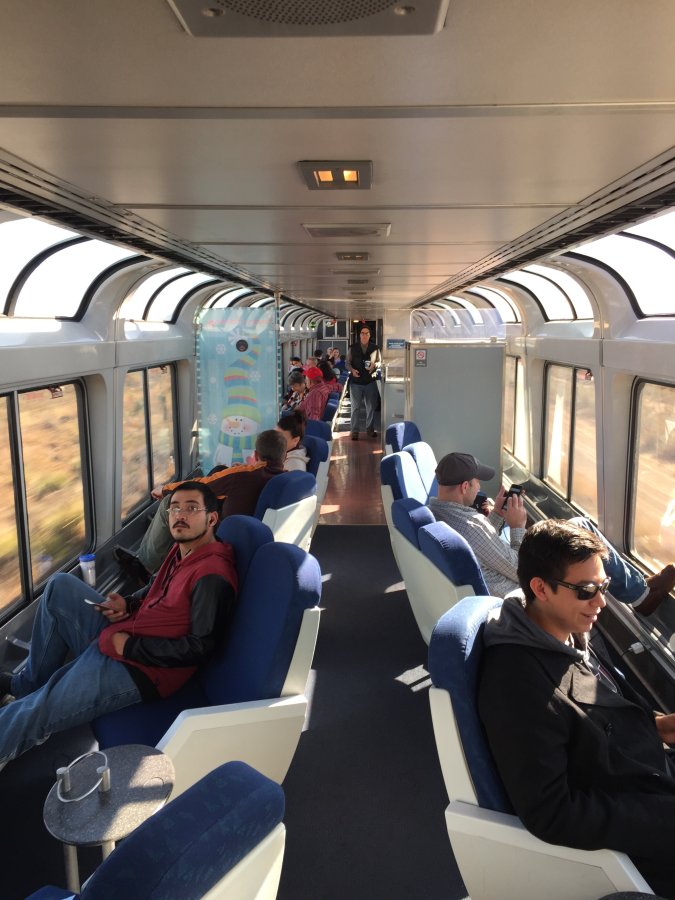 View from the train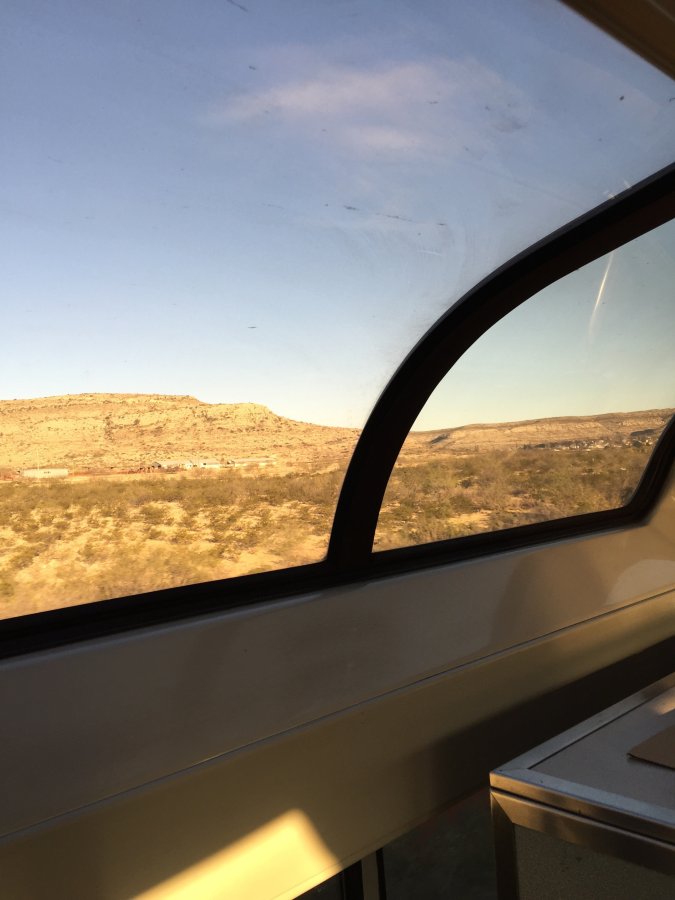 After dinner (sorry forgot to take photo, I had the chicken) Its time for bed. Brian, our car steward, converted the cabin from two captains chairs into a bed, and folded down a top bunk to make a cozy set of bunk beds.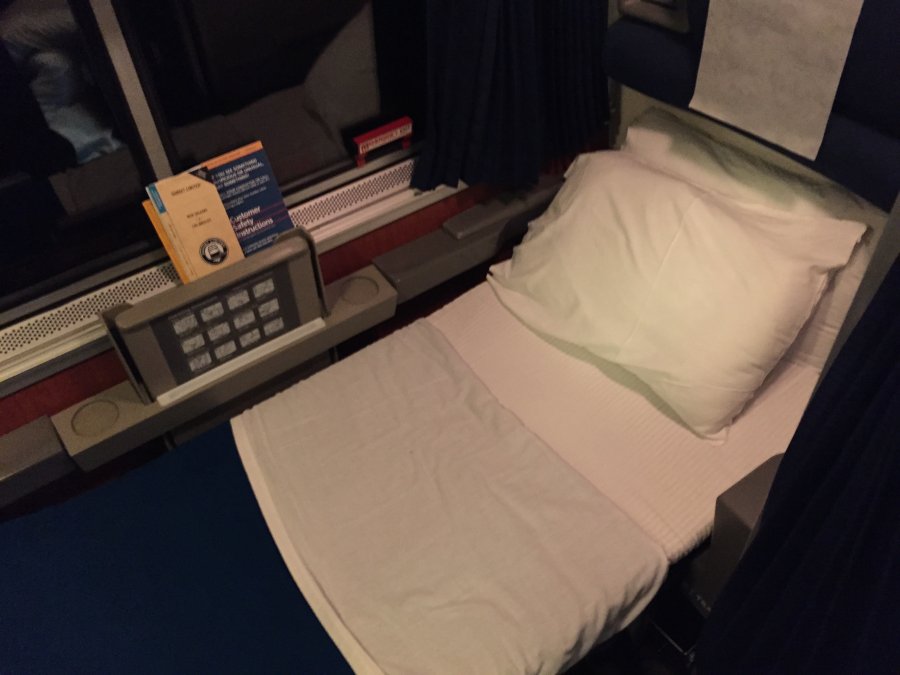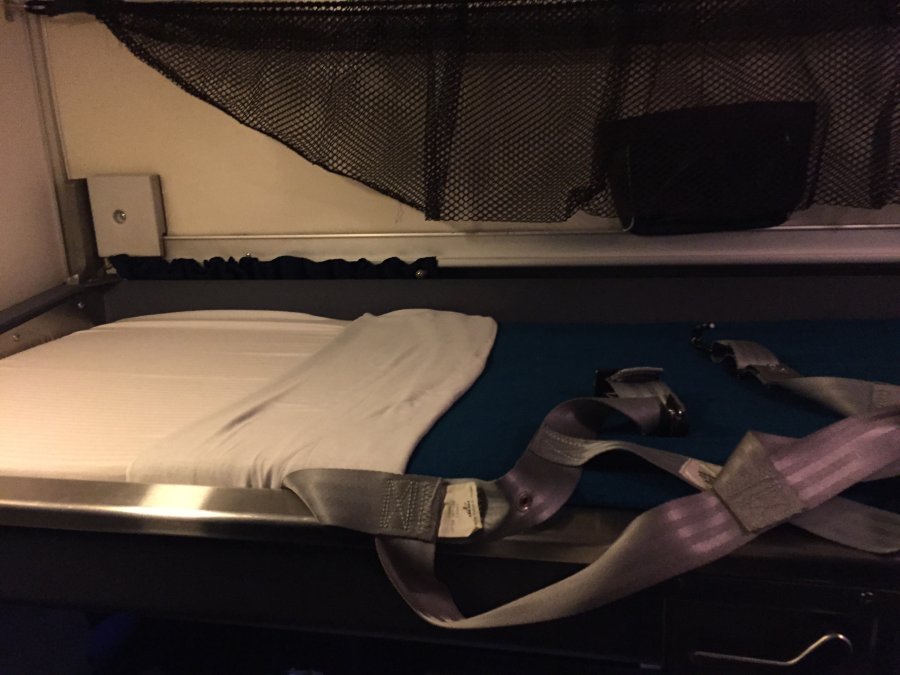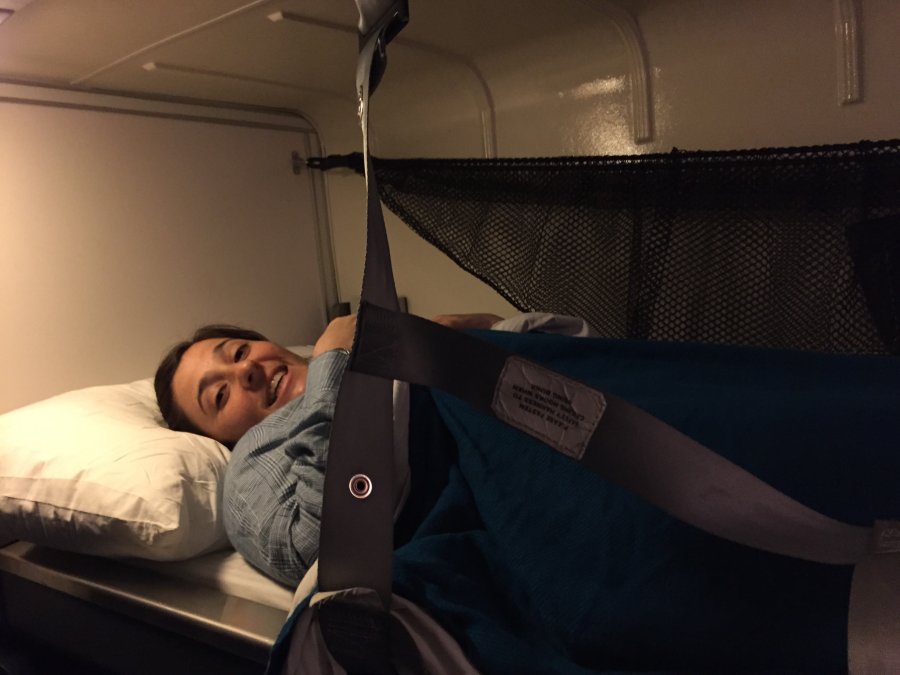 (Goodnight!!)
We went to sleep somewhere between Houston & San Antonio & woke up in West Texas. Here the train hugs the Mexican border for a couple hundred miles.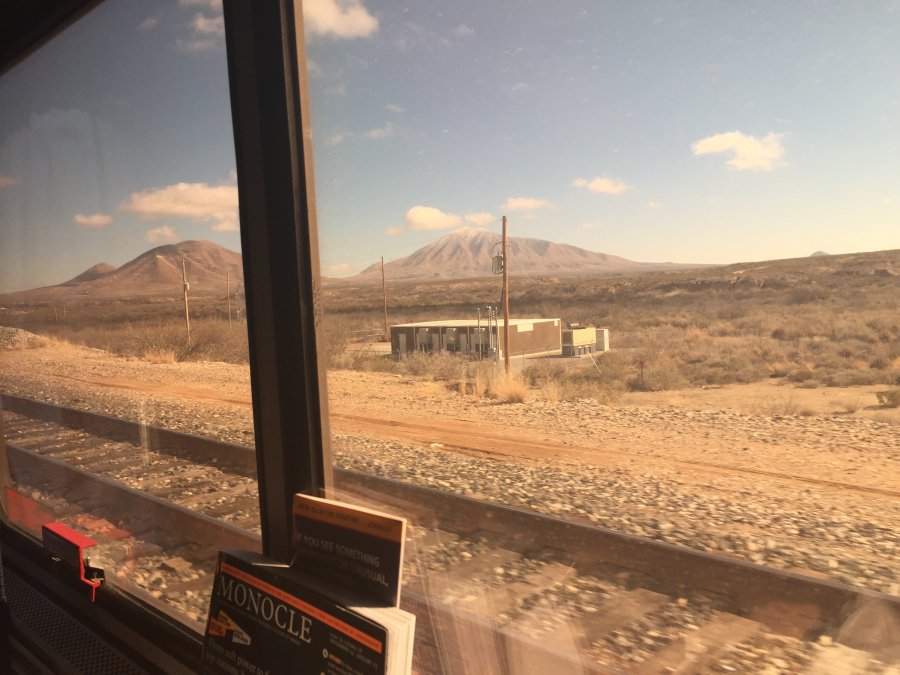 We took a later breakfast reservation so we could enjoy the sunrise from our room. When we did sit down for breakfast, I went all out and had the Omelet w/ all the fixings.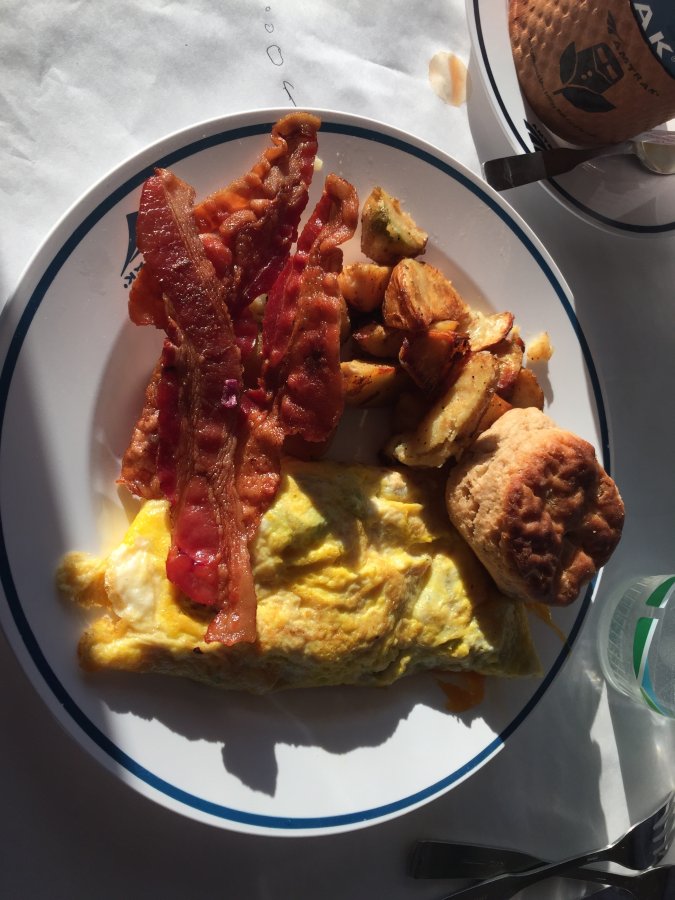 We took the opportunity to stretch our legs in Alpine, Texas where there was a light dusting of snow.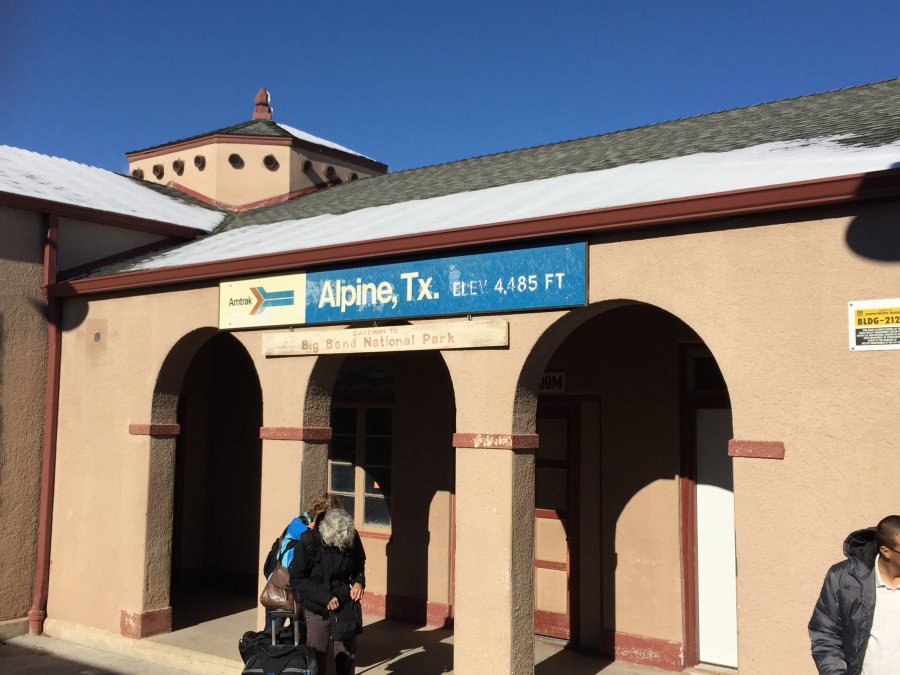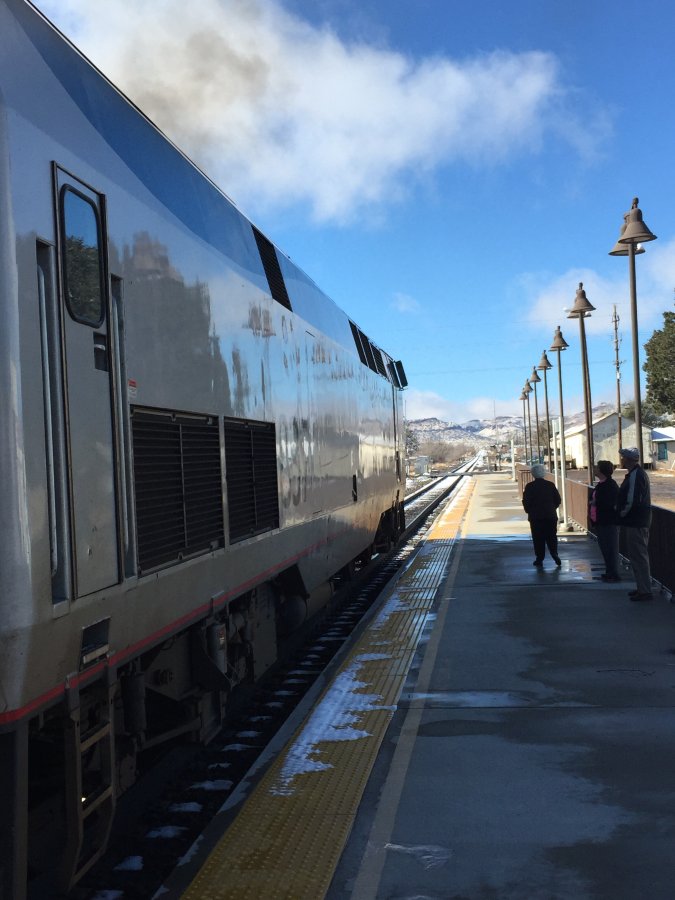 Shared a couple of laughs w/our cabin mates.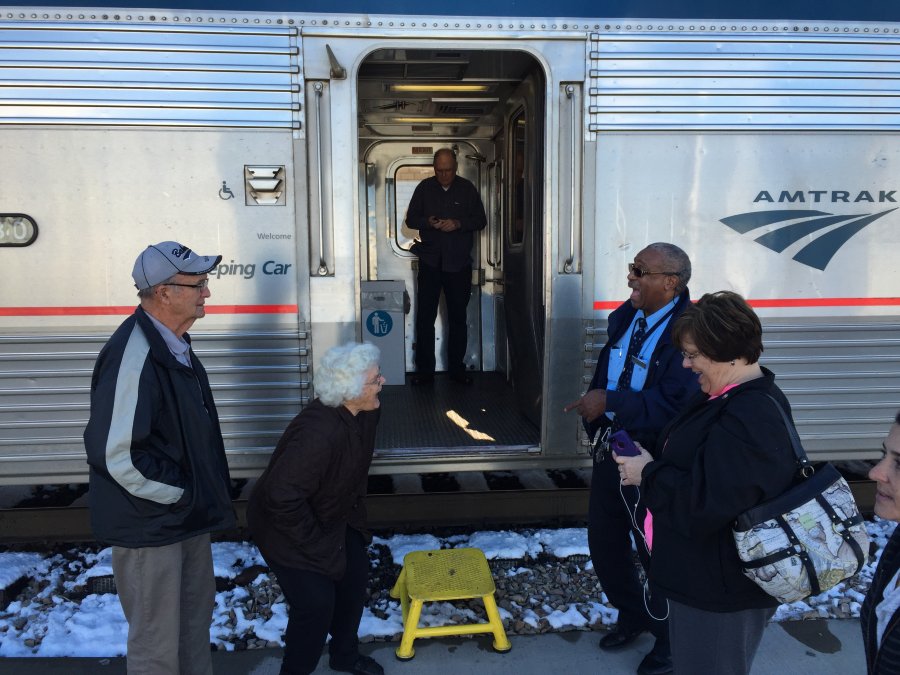 Back on the rails, we passed some old Union Pacific freight cars.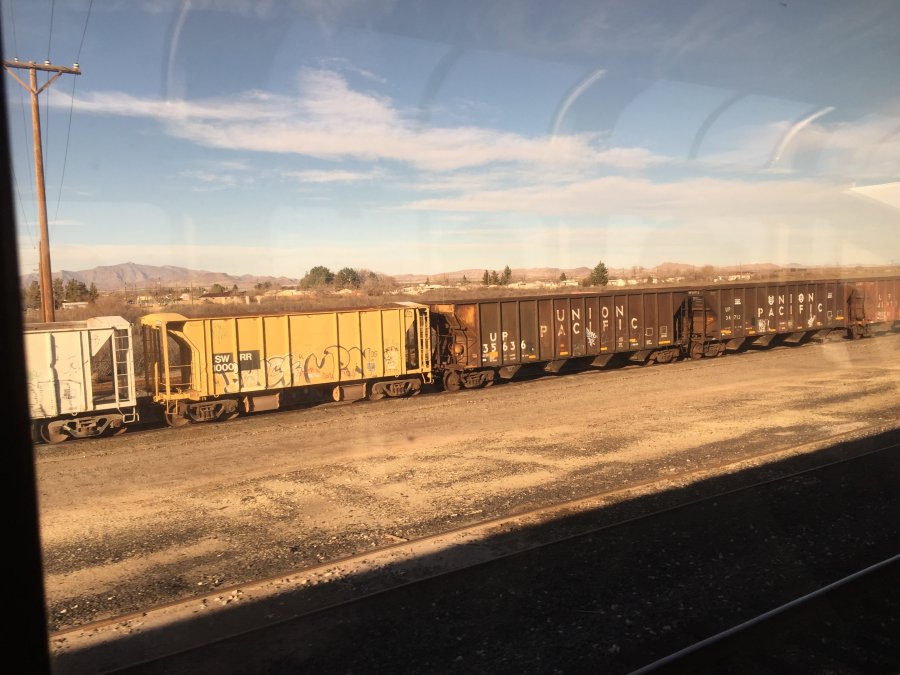 Visiting the Snack Car (items here not included in price of First Class ticket).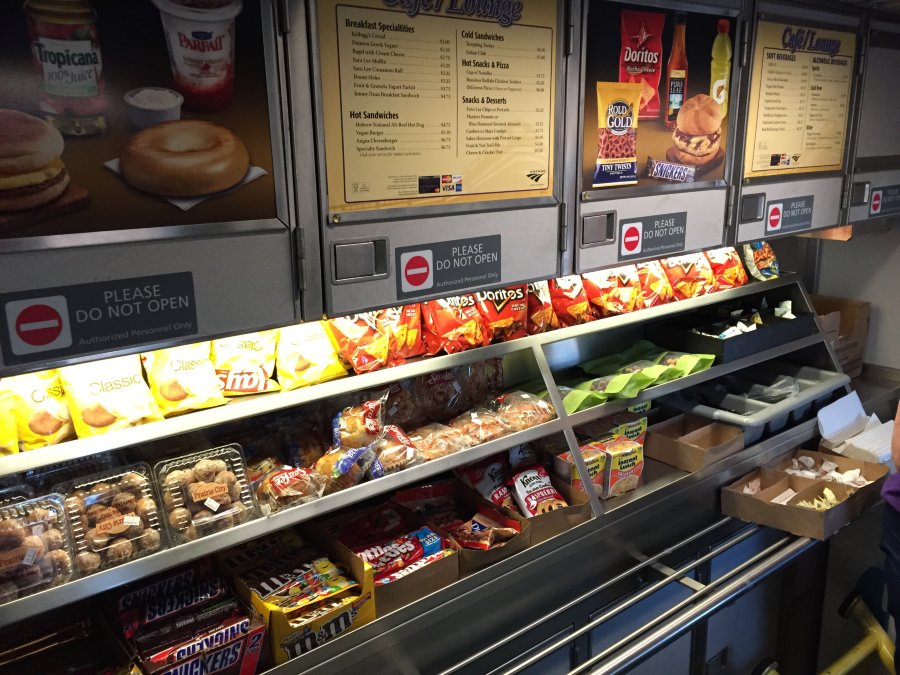 And here is why they call it the Sunset Limited.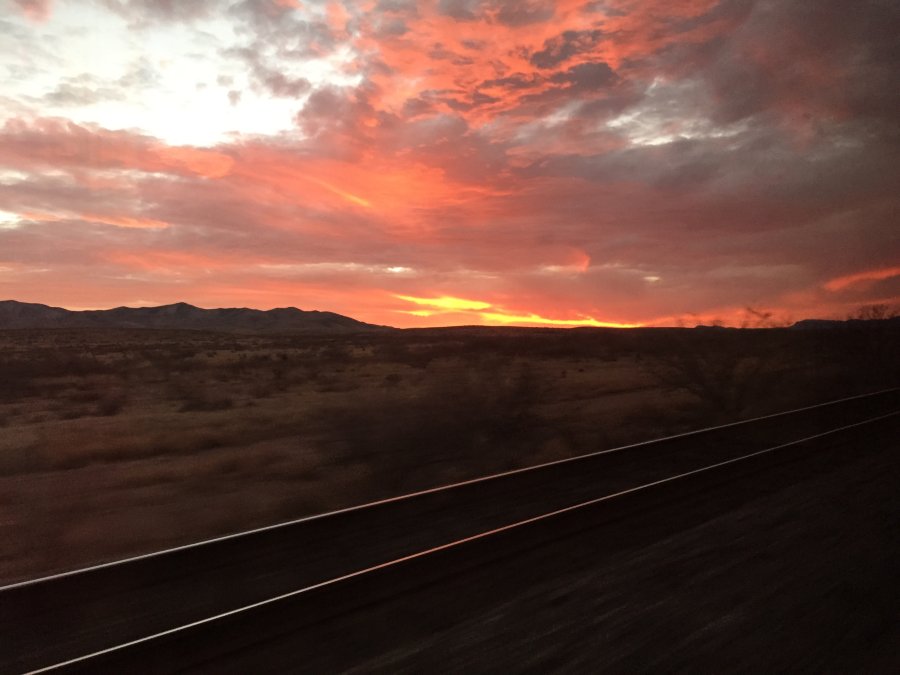 At 7:15 pm on Sunday, December 28th we arrived in Tucson Arizona 30 minutes ahead of schedule.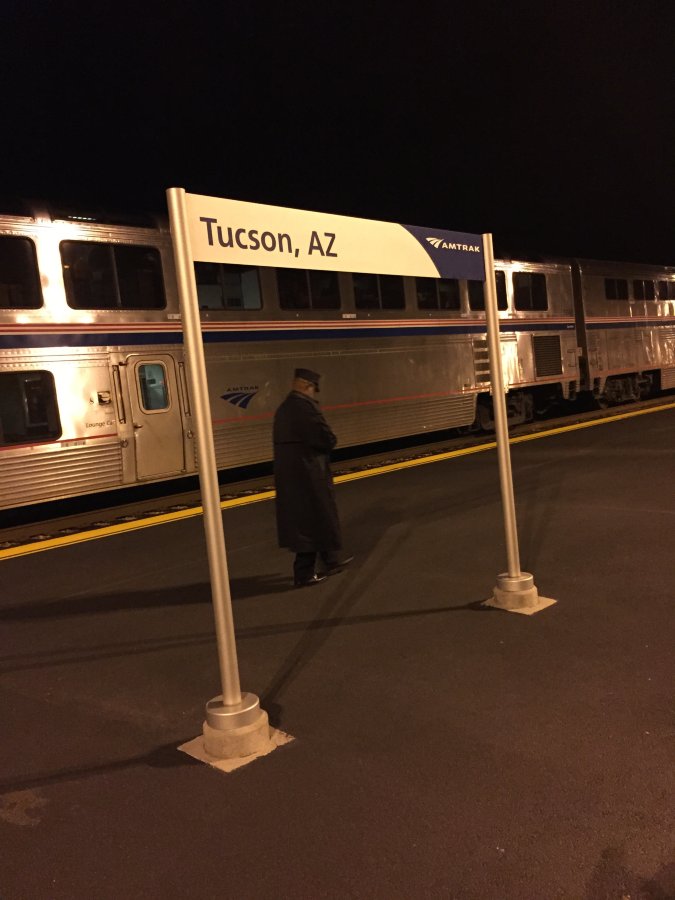 While in the observation car I overheard a man, whom was circumnavigating the lower 48, sum up train travel perfectly: "What could be better than this? I have a great seat, good people and a picture window to keep me occupied". I agree wholeheartedly. Train travel is not for everyone, and certainly has a time and place for me, but if you are looking to see some beautiful countryside, relax into a book or two, and meet some folks you might not come across in your regular day I say: All aboard!!